Savory soy milk is an easy, must-try breakfast and street food. The addition of ingredients like Chinese cruller makes for a hearty, warming soup perfect for any time of day. This no-recipe recipe allows you to adjust the taste to how you like it.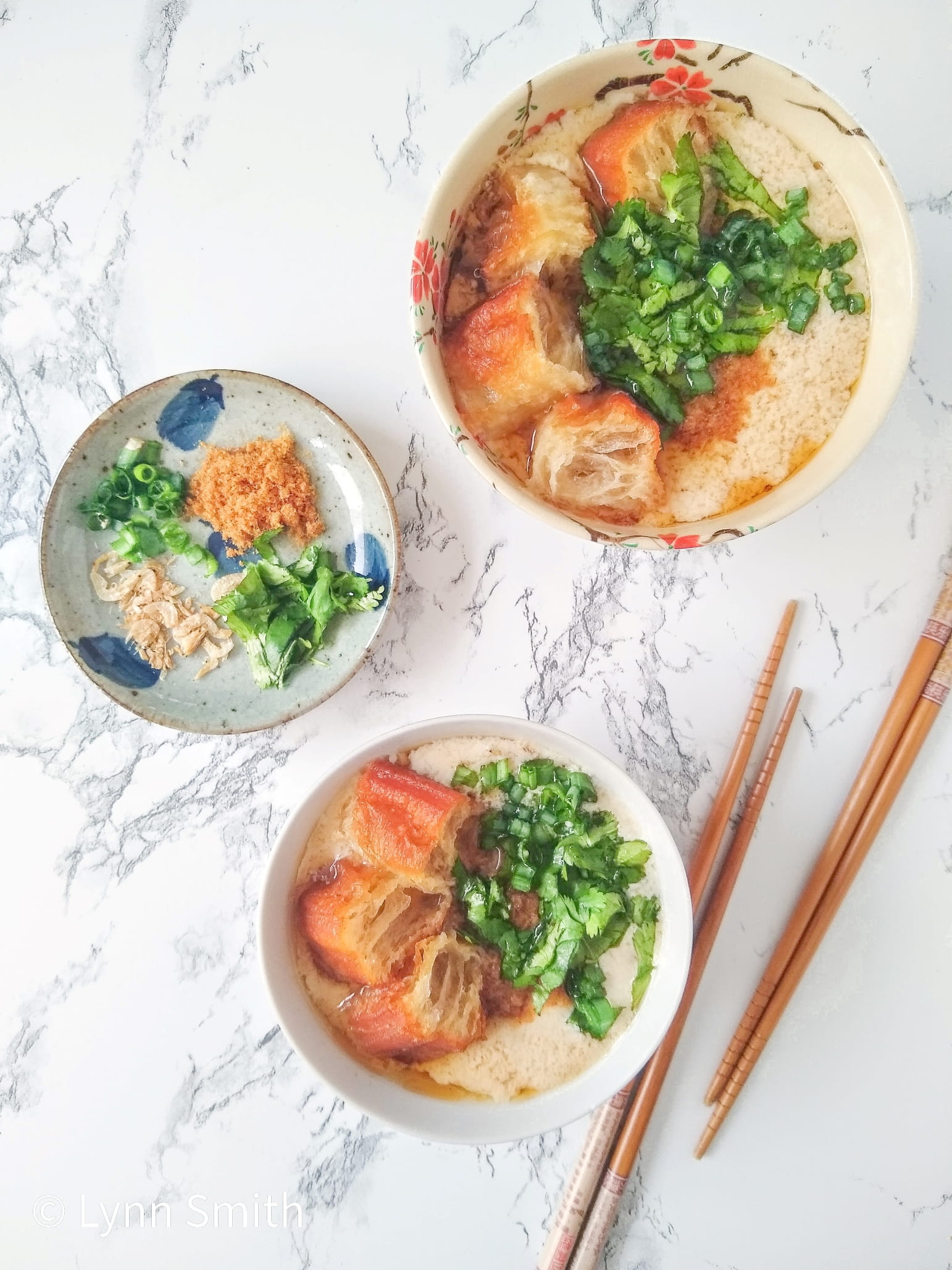 Salty soy milk (鹹 豆漿) may sound odd, but it is a great way to eat soy milk. In the west, soy milk is typically consumed plain or sweetened. However, this salty/savory variation of soymilk is a popular Taiwanese and Chinese breakfast dish served at street food stalls and breakfast shops. You can find salty soy milk sold alongside other tasty foods such as scallion pancakes and fried crullers. After my family ate salty soy milk every day for breakfast during our trip to Taiwan, it quickly became a regular rotation in our meals because of how delicious and simple it is to make.
The base ingredients for salty soy milk are unsweetened soymilk, soy sauce, sesame oil, vinegar, and Chinese crullers (油條). The soy sauce and sesame oil season the soymilk. The vinegar gives the soy milk a unique sour note. A reaction between the vinegar and the soy proteins also causes the soy milk to curdle and thicken. Chinese crullers have large air pockets, so they are super light and airy. So, when added to the soy milk soup, the crullers soak up all of the soy milk's delicious flavors.
Here are some tips for how to prepare some of the other toppings:
Chinese cruller:

Toast the cruller first before cutting it into pieces for extra crunch.

Dried Shrimp:

Quickly rinse and sauté on medium heat until dry and fragrant

Zha Cai, Preserved Mustard Stems:

Quickly rinse and dice into small pieces. Sauté on medium heat until dry and fragrant

Egg

: Beat the egg and cook it into a thin crepe/pancake using a nonstick pan. Roll the crepe up and thinly slice it to use as garnish.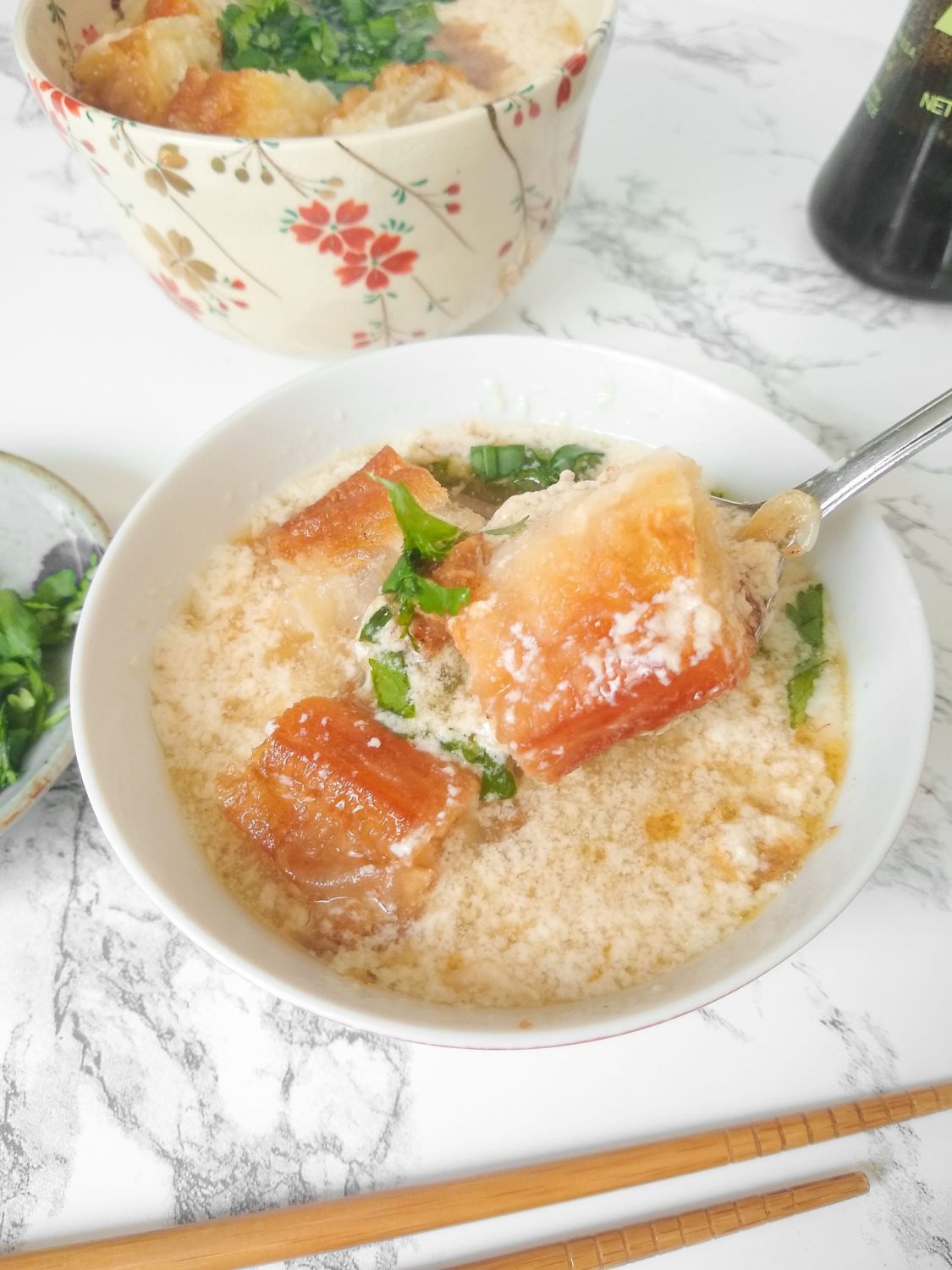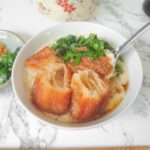 Print Recipe
Savory Soy Milk (咸豆浆)
Salty/savory soy milk is a delicious and easy breakfast street food. The addition of ingredients like Chinese cruller and preserved mustard stems makes for a hearty and warming soup perfect at any time of day. You can use this recipe as a simple guideline that can be adjusted to your own tastes.
Ingredients
Base Ingredients
unsweetened soy milk

Chinese cruller

you tiao, 油條

soy sauce

rice vinegar

sesame oil
Toppings
papery dried shrimp

Note 1, 2

preserved mustard stems

zha cai, 榨菜 Note 1, 3

meat floss

rou song, 肉松

1

egg

thinly sliced, Note 4

white pepper

chili oil

scallions

thinly sliced

cilantro

chopped
Instructions
Toast the Chinese culler to warm and crisp it up. Cut it into bite-sized pieces.

In your serving bowl, add your desired amount of soy sauce, rice vinegar, and sesame oil. Note 5

Heat some soy milk in a sauce pan over medium heat until warm and pour it into your serving bowl. Or, simply add cold soy milk directly to the bowl and microwave until warm.

Add the cruller pieces and any other desired toppings on top. Serve and enjoy.
Notes
If using papery dried shrimp or preserved mustard stems, first quickly rinse them with water. Dice the mustard stems into small pieces. Add the shrimp to a pan over medium heat with some oil, and sauté until dry and fragrant. Sauté the mustard greens over medium heat as well.
You can find many different kinds of dried shrimp at your local Asian market. Savory soy milk typically uses the papery variety which is much smaller and paler in color. You could substitute these with the larger dried shrimp variety, but you may need to chop them up first depending on how big the shrimp are.
If you do not have zha cai, you also try using dried pickled radish (lo bo gan, 萝卜干) or pickled mustard greens (suan cai, 酸菜). Wash, chop, and cook these pickled vegetables in the same manner as the mustard stems.
If adding egg, beat the egg and cook into a thin sheet. Roll the egg sheet up and thinly slice. 
I usually add a spoonful each of soy sauce, vinegar, and sesame oil for about one cup of soy milk, but you can add as much or as little as you'd like.
How to Make Salty Soy Milk
Make the Soy Milk Base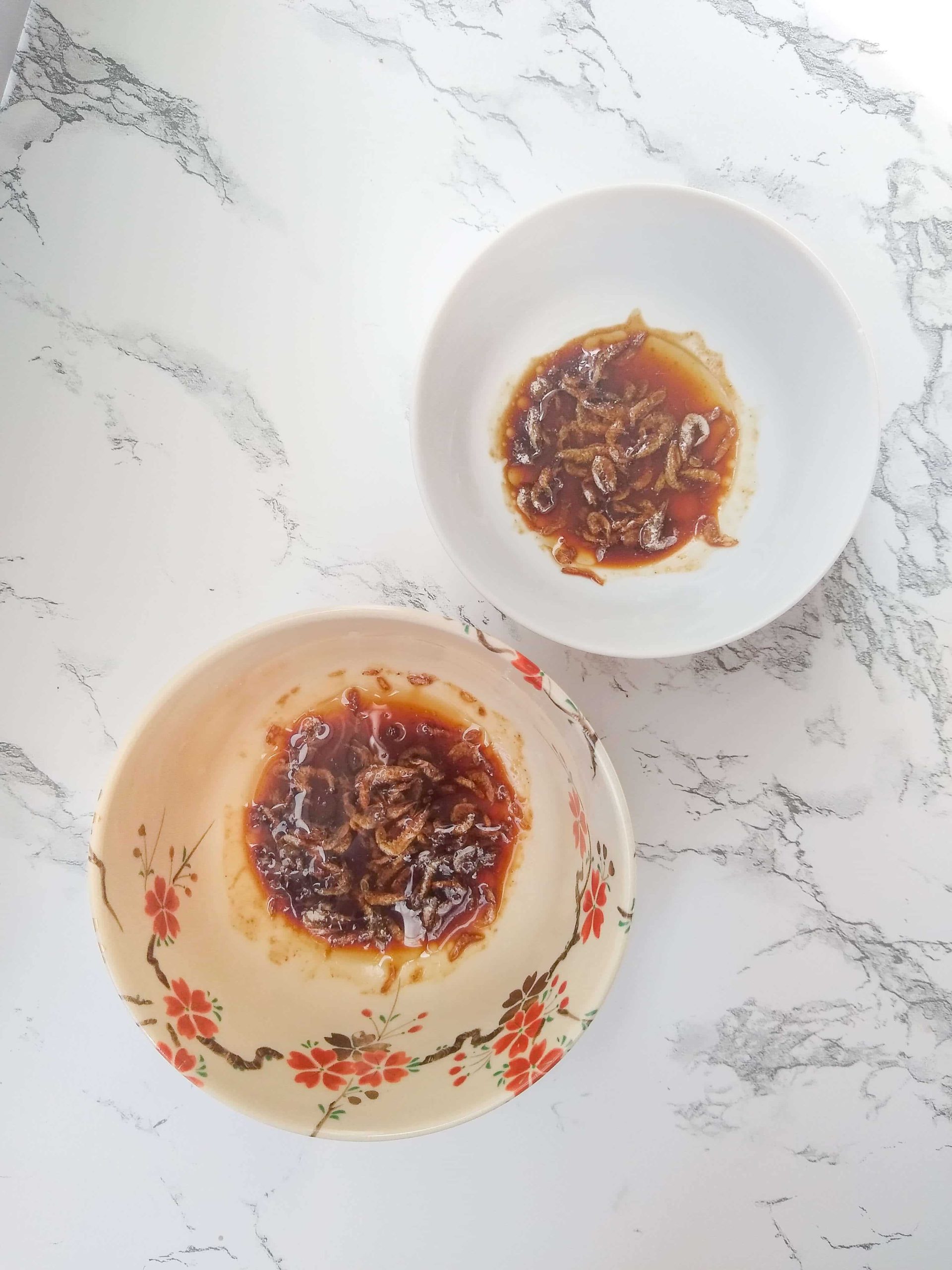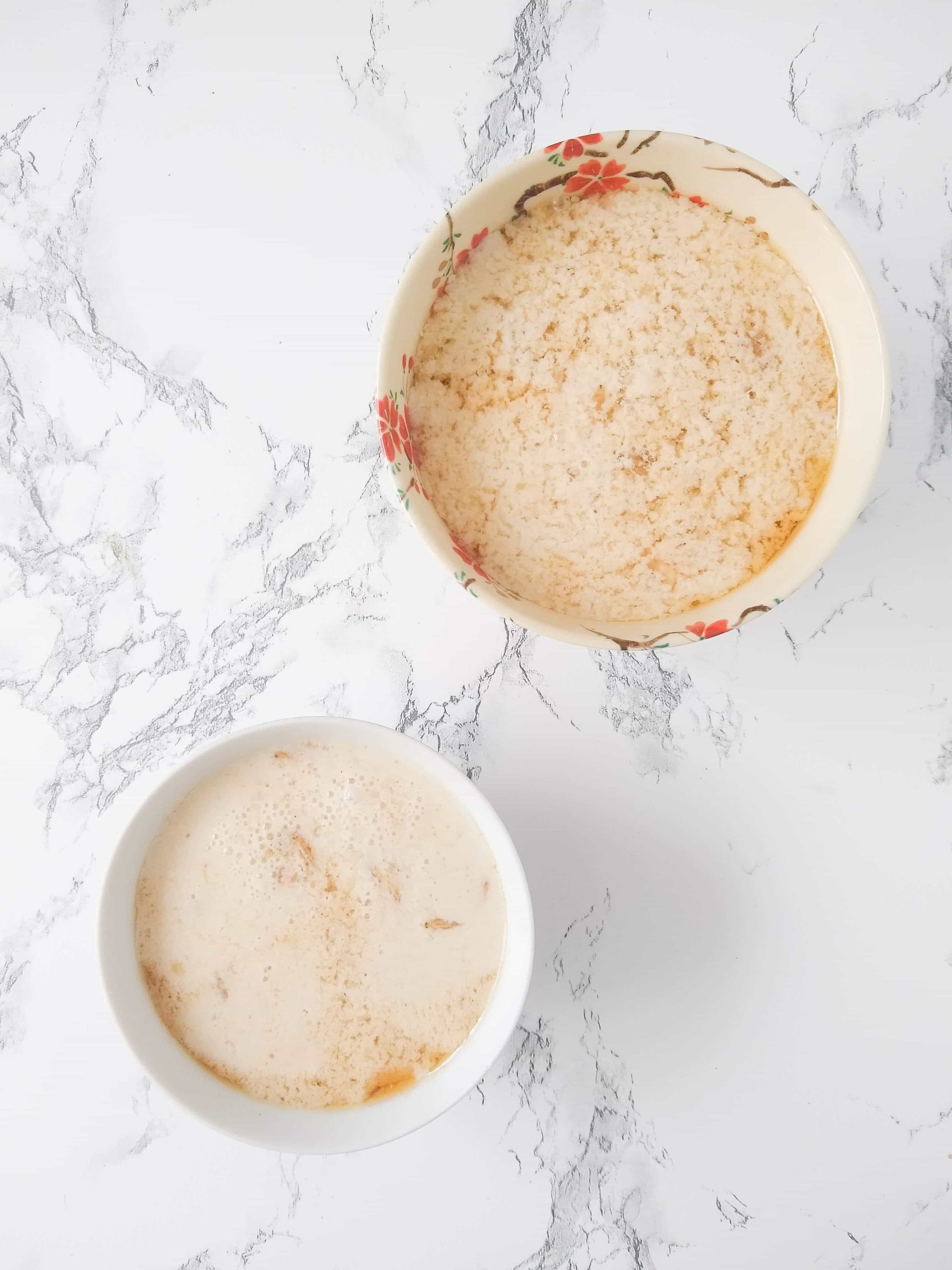 Add your desired amounts of soy sauce, rice vinegar, and sesame oil to your bowl. Pour in the hot soy milk and let the soy milk curdle and thicken. You can warm the soy milk on the stove before pouring it in, or you can add the cold soy milk to the bowl directly and microwave it.
Add the Toppings
Add your desired toppings on top and serve.