Fermentation can often seem intimidating, but this easy kimchi recipe is simple to make. This recipe scales down the time and materials it takes to make traditional kimchi, but not flavor!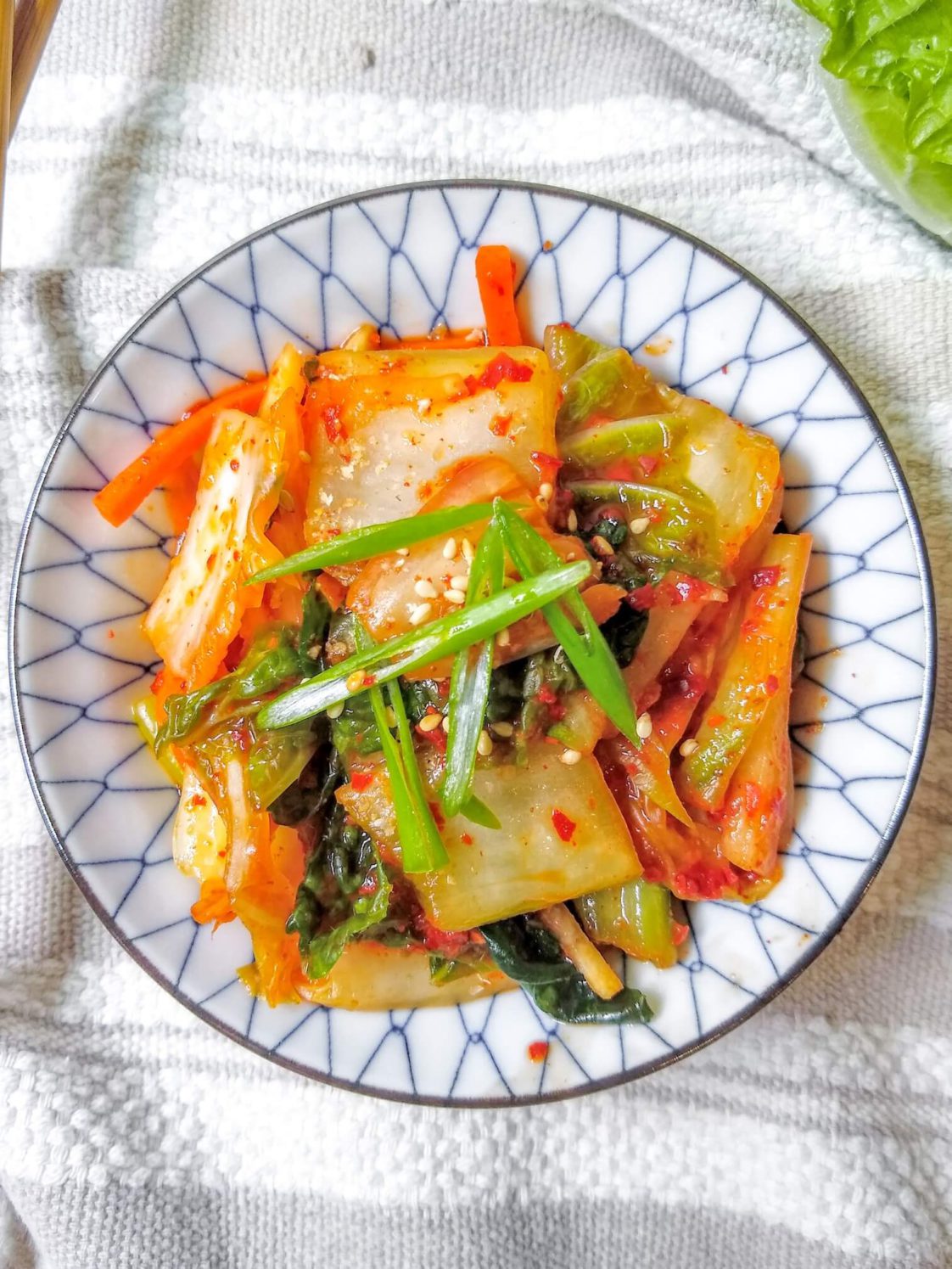 If you want to try fermentation for the first time, Mak Kimchi (막김치) is one of the easiest and most delicious types of fermented foods you can make. Unlike many fermentation recipes that have several technicalities, this kimchi recipe is super simple to make! Plus, mak kimchi is a Korean banchan, or side dish, that can be eaten alongside many other dishes such as Korean bean sprout salad. It can also be used as an ingredient for other recipes like fried rice, stews, and Korean-style pancakes!
My easy kimchi recipe is an adaptation of Maangchi's Easy Kimchi recipe. I scaled down the recipe to make it more manageable (10 pounds of napa cabbage at once is a lot!)
This simple kimchi recipe still includes many of the important ingredients for mak kimchi (for example, garlic, ginger, and gochugaru). However, it simplifies the number of ingredients added for an easier recipe!
How to Ferment Kimchi
The length of the fermentation period is up to personal preference! My family does not eat kimchi often, so I immediately refrigerate it. Refrigeration allows for a slower fermentation. If you would like to have sour kimchi (for recipes like soondubu, a Korean stew) as soon as possible, you can leave your sealed kimchi out at room temperature for up to three days to develop the sour flavor more quickly. After three days, I would advise storing it in the refrigerator. Here are some key tips to remember:
Place the mak kimchi in an air-tight container and make sure to pack it down tightly so that there are no air bubbles inside. Also, make sure that there is some kimchi paste covering the top pieces of cabbage. The kimchi paste on top prevents it from going bad.
For both fermenting your kimchi at either room temperature or in the refrigerator, you will need to "burp" the kimchi jar. This is simply opening the kimchi jar to release any gas building up from the fermentation.
Whenever you take some kimchi out to eat, remember to use clean utensils so that there is no risk of adding any bacteria into the kimchi!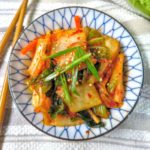 Print Recipe
Easy Kimchi (Mak kimchi)
Fermentation can often seem intimidating, but this easy kimchi recipe is simple to make. This recipe scales down the time and materials it takes to make traditional kimchi, but not flavor!
Servings:
2
large mason jars
Ingredients
1

large

napa cabbage

3-4 lbs

1/3

cup

salt

(91 grams)

6

green onions, julienned

1

cup

julienned daikon

1/4

cup

julienned carrot

sub with more daikon or omit
Porridge
1

cup

water

(240 mL)

2

tbsp

glutinous rice flour

(15 grams)

1

tbsp

sugar

(12 grams)
Kimchi Paste
9

garlic cloves

(35 grams)

2

inches

ginger

1/2

Asian pear

or apple, optional

1/4

cup

minced onion

(8 grams, about 1/4 medium onion)

1/4

cup

fish sauce

(56 grams)

1/3

cup

gochugaru, Korean red pepper flakes

(45 grams, more to taste)
Instructions
Prep and Salt the Cabbage
Discard the discolored outer leaves of napa cabbage.

Cut the cabbage lengthwise into quarters and remove the core. Chop it up into roughly one inch chunks.

Place the cabbage into a large bowl and toss with 1/3 cup of salt and 1 cup of water.

Every 45 minutes or so, turn the cabbage over to salt evenly.

After 2 hours, the cabbage pieces should be flexible and bendy. Rinse the cabbage at least 3 times to clean it thoroughly and remove excess salt.

Drain the cabbage and set aside.
Make the Porridge
Whisk the porridge ingredients together in a small saucepan until smooth.

Place the saucepan on the stove over medium/medium-high heat and stir constantly until the porridge begins to bubble (about 4 minutes). The slurry should be thickened and slightly translucent. Set aside to cool.
Kimchi Paste
Blend the garlic, ginger, onion, and optional pear/apple in a food processor.

Add this mixture into a bowl along with the cooled porridge, fish sauce, and gochugaru. Mix well to combine.
Mix everything together
Add the kimchi paste, green onions, daikon, and carrot to the cabbage and mix together.

Taste and adjust the amount of salt, gochugaru, and/or sugar to taste.

Put the kimchi into an air-tight plastic container or glass jar. You can eat it immediately or wait until it's fermented. Remember to open the container to release some of the gas produced in fermentation during the first few days of room-temp fermentation or week of refrigerated fermentation.
How to Make Mak Kimchi
Salt the Cabbage
The first step is chopping and salting the Napa cabbage. I chop the cabbage pretty roughly because it shrinks down considerably after salting. You can take a look at the photos below for reference.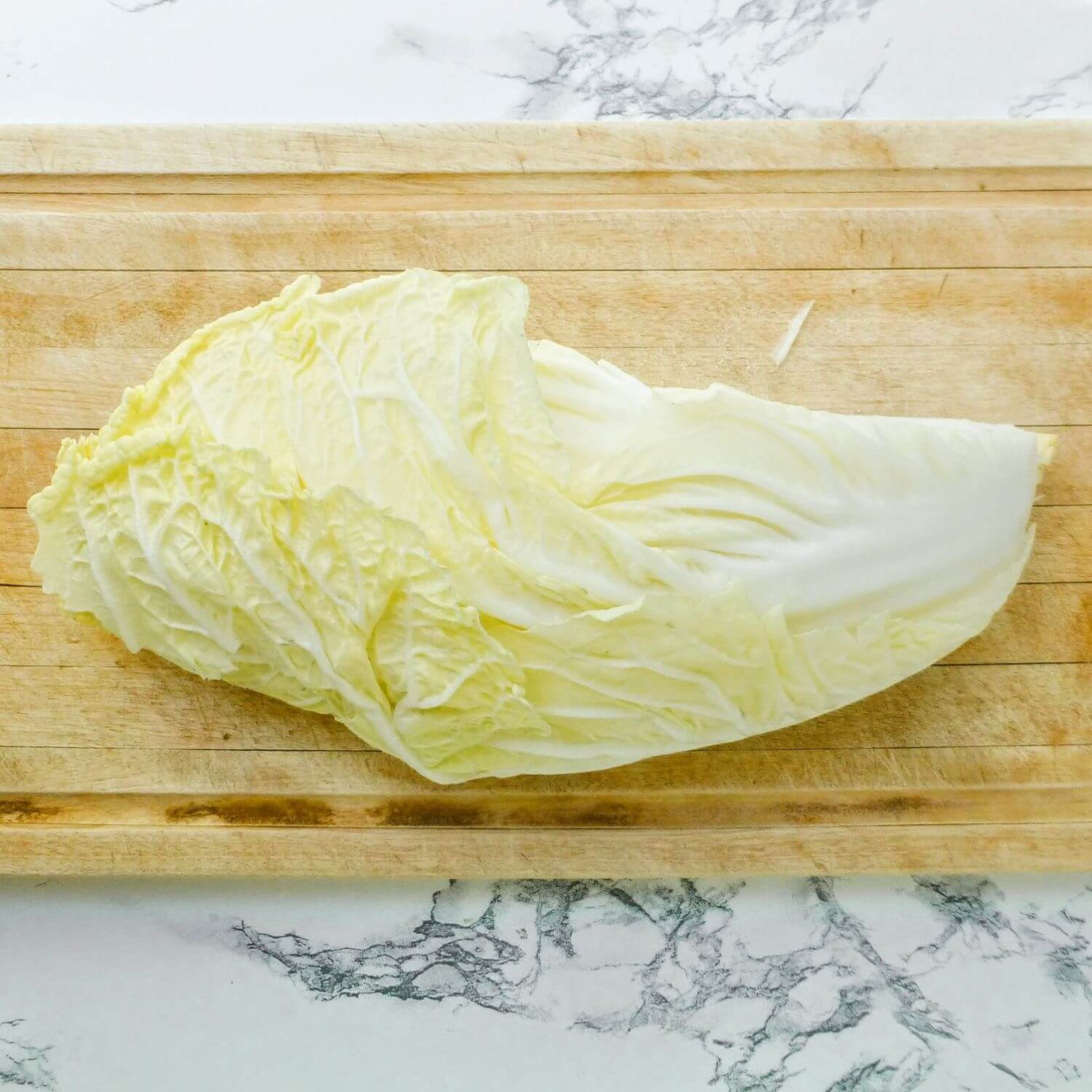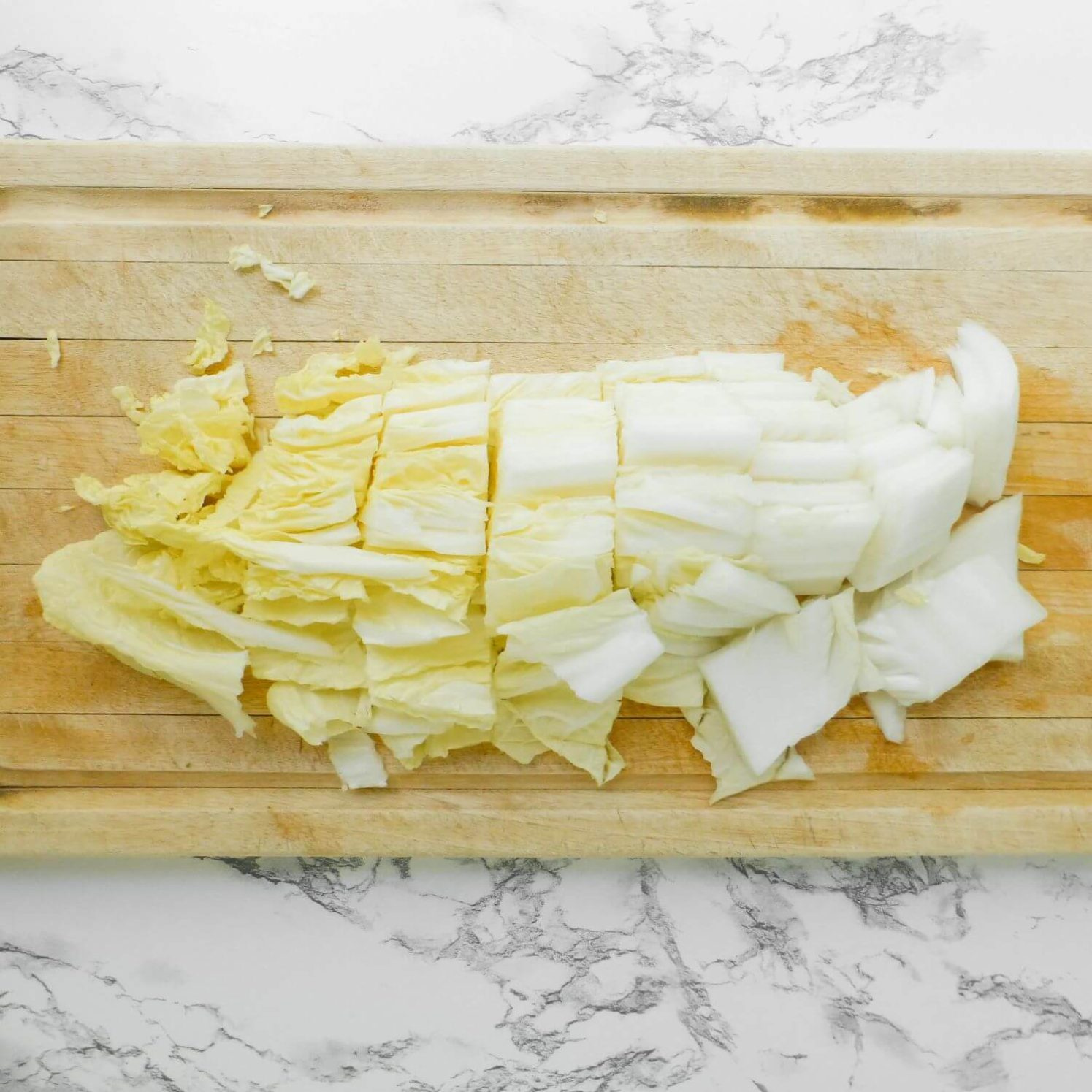 Salting draws out water from the cabbage, kills harmful bacteria, and prevents the cabbage from turning mushy later on. You will need a large bowl to put the cabbage into while it is salting.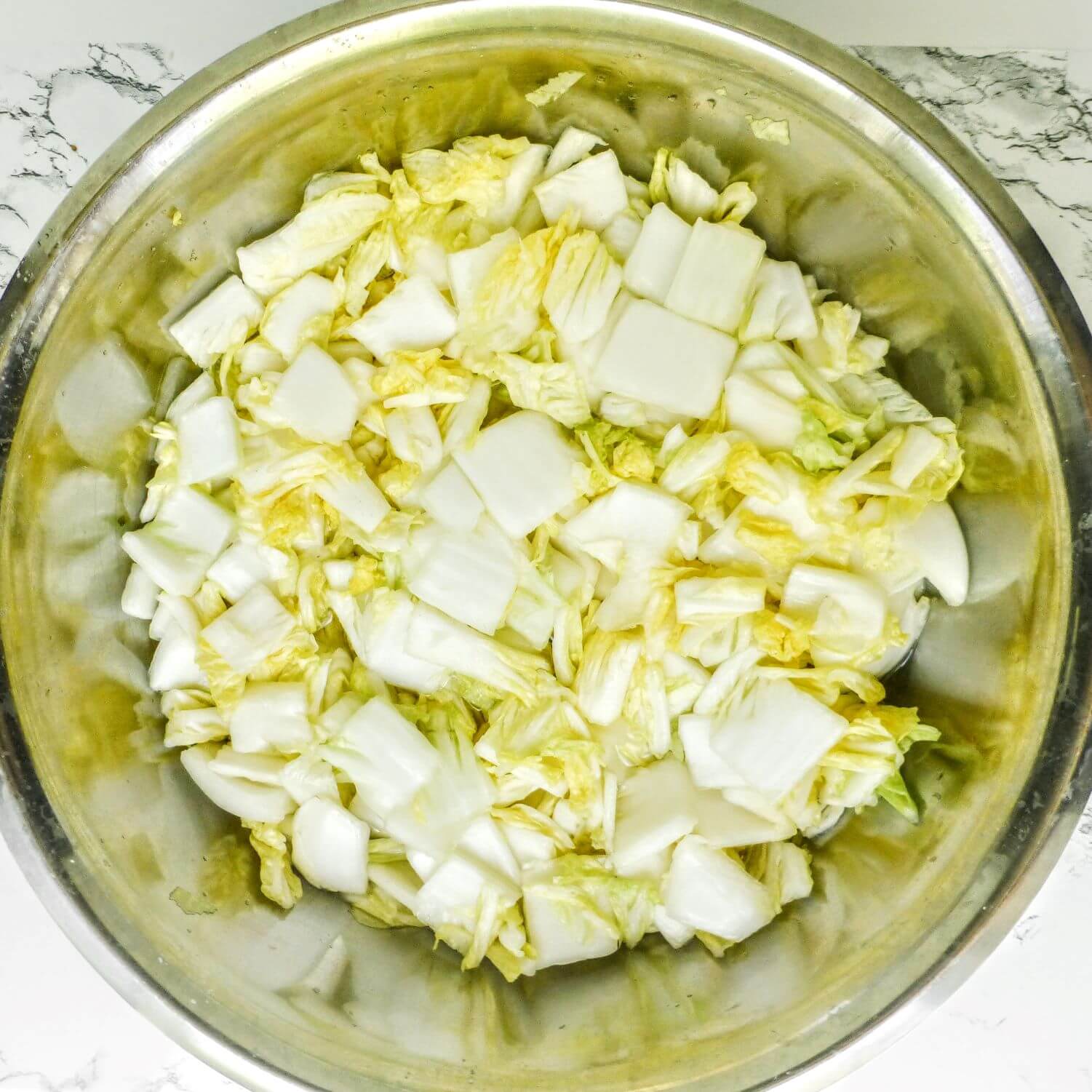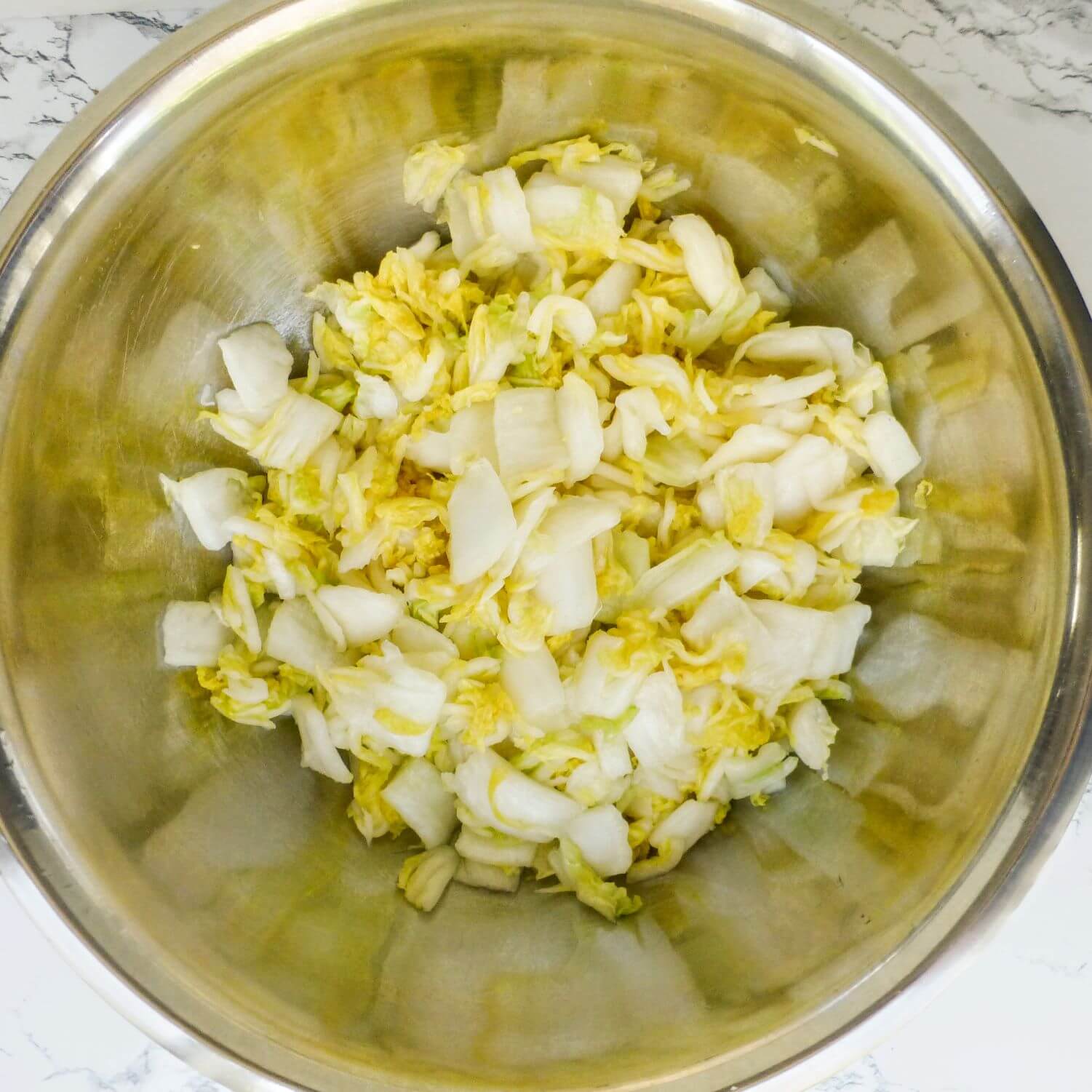 The salt brine in my recipe lasts for 2 hours, but you can let it go one or two more hours if need be. The brine just needs to last long enough so that the napa cabbage is flexible and bendy. Do take note that the longer you salt the cabbage, the more water you will draw out, and thus the more flavorful and saltier the end product will be.
Make the Porridge
The glutinous rice flour porridge helps the kimchi paste to stick to the Napa cabbage. It is not required, but it also creates extra liquid for kimchi juice (if you want to use kimchi juice in another recipe).
Make sure to whisk the ingredients until smooth before placing it over the stove. Also, constantly whisk the porridge while you are bringing it to a boil. Whisking will prevent the mixture from getting clumpy.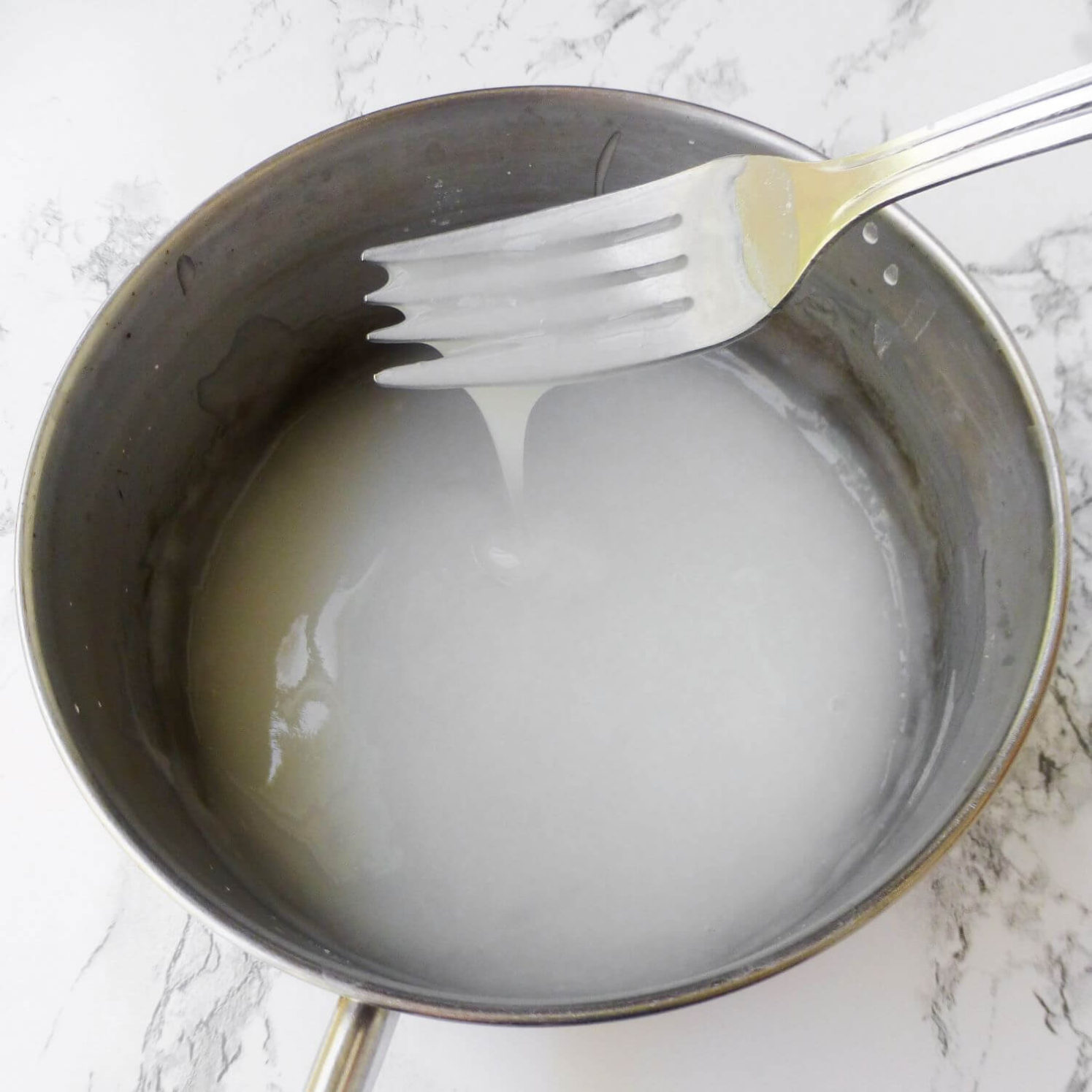 The porridge is done once it has turned translucent, thickened, and has begun to boil.
Mix the Kimchi Paste
Place all of the garlic, ginger, onion, and apple/pear (optional) into a food processor. Process the ingredients until smooth.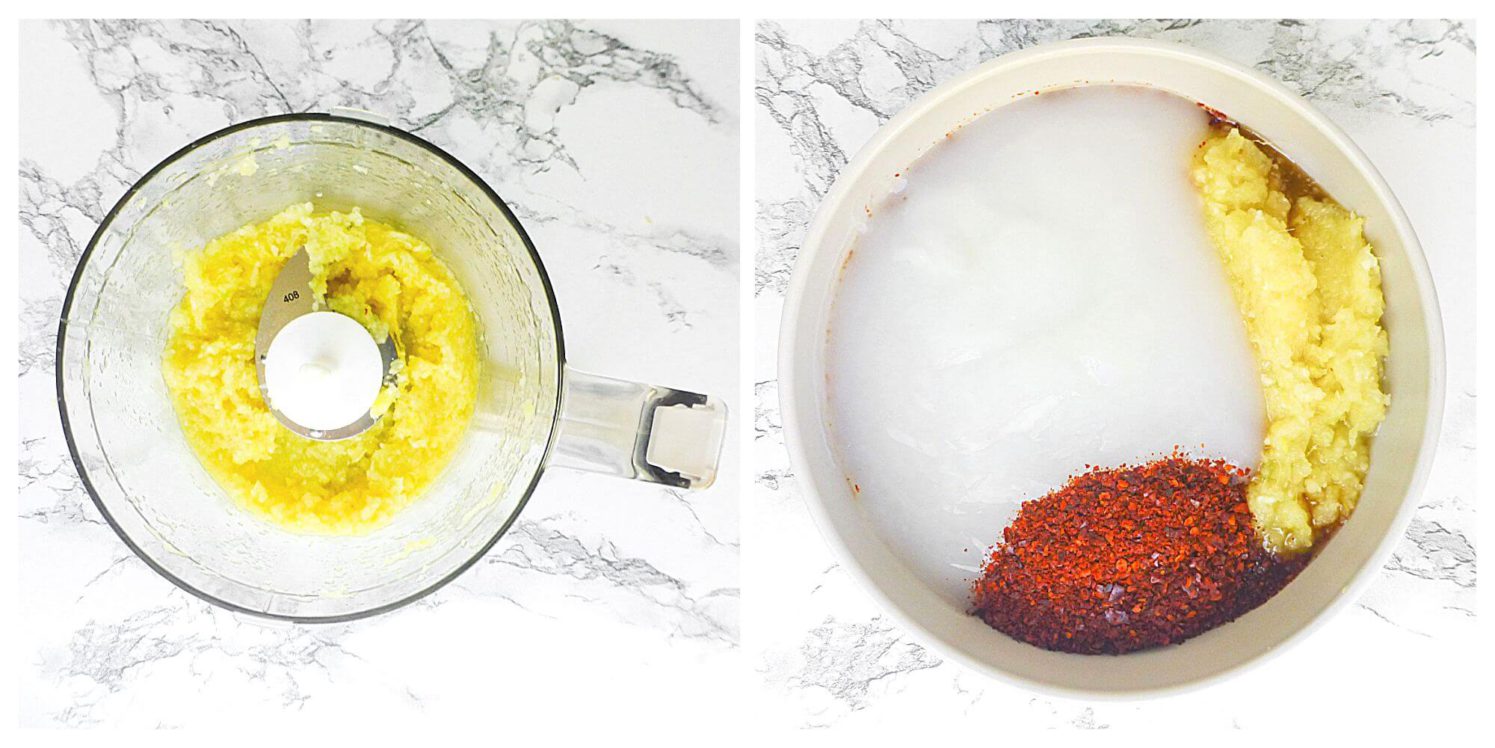 Mix the paste with the gochugaru, porridge, and fish sauce.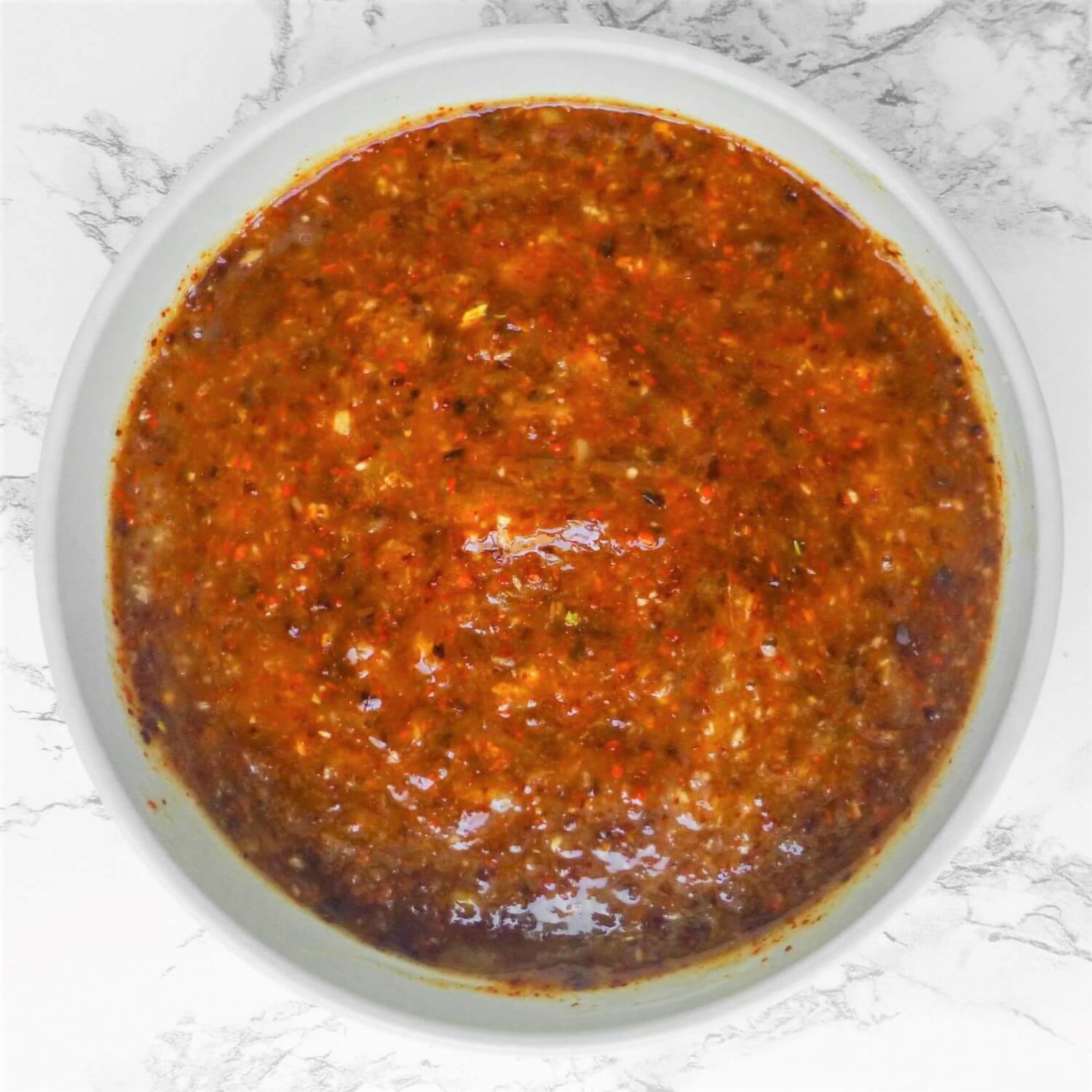 Mix Everything Together
Finally, mix everything together. Either pack it down tightly in a clean container and leave it to ferment or enjoy immediately!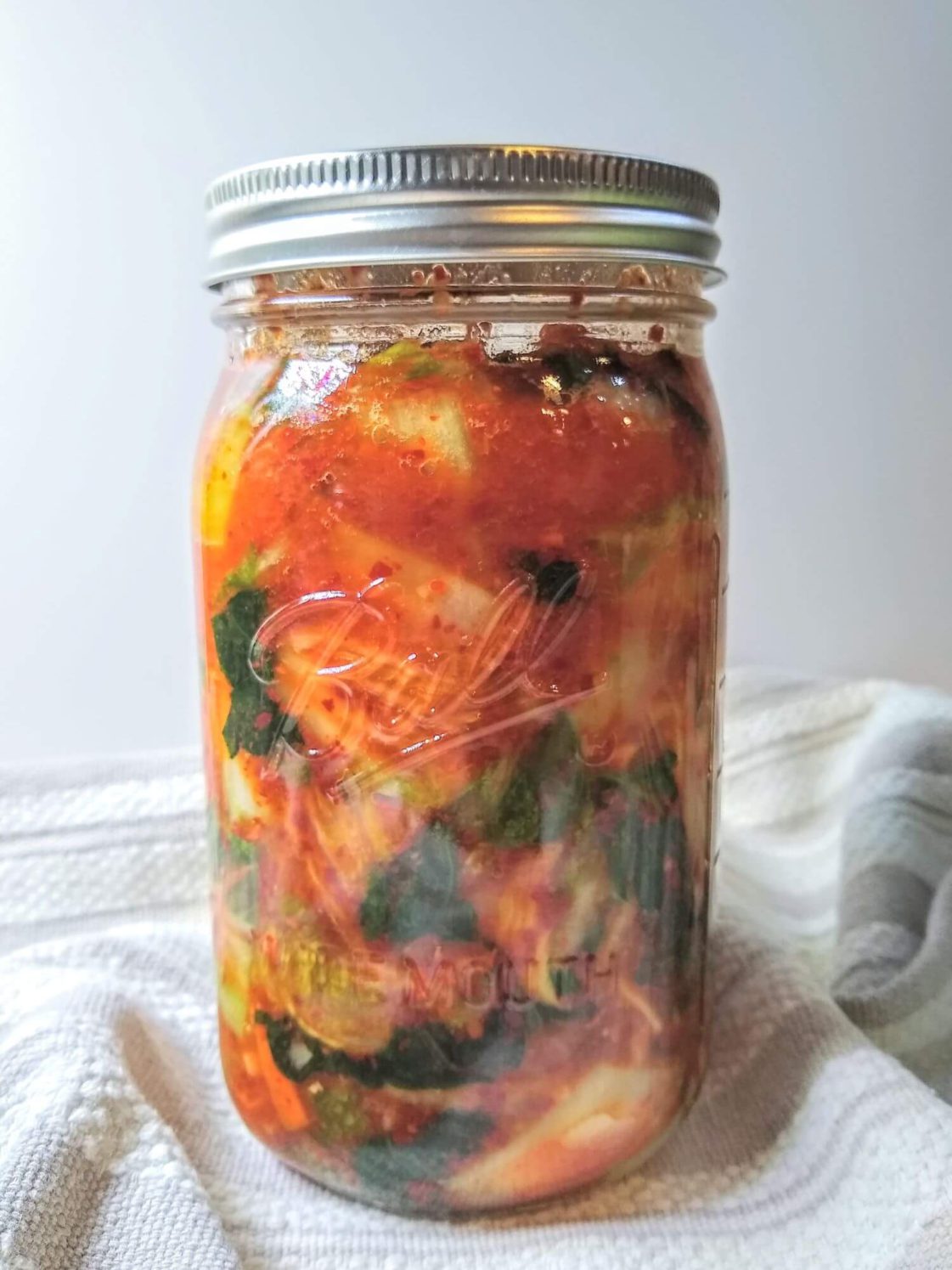 You can either ferment the kimchi at room temperature for a few days for a fast ferment or stick it in the fridge for a slow ferment. See my post above for more details on fermentation