Chinese Coconut Mochi (Nuomici, 糯米糍)
These traditional Chinese glutinous rice balls have a delicious red bean paste filling and coconut coating. The mochi is super soft, chewy, and simple to make!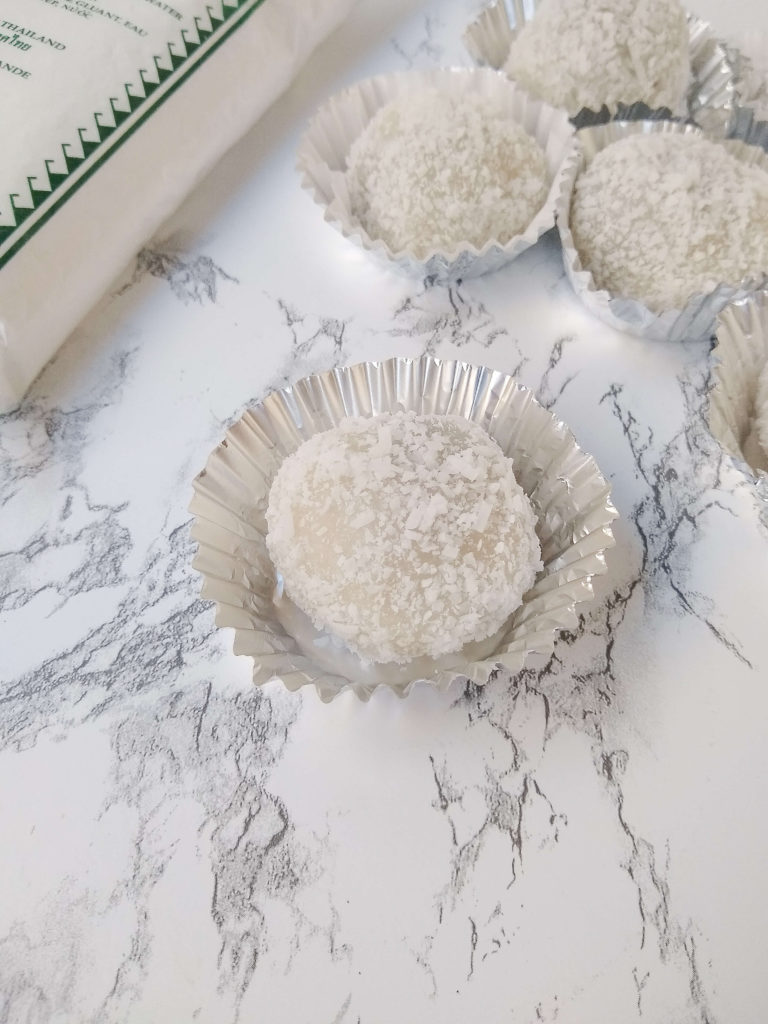 Nuomici (Mandarin), or Lo Mai Chi (Cantonese), is a traditional Chinese mochi that consists of a filling wrapped in glutinous rice dough and covered in coconut. This dessert has a soft interior with a chewy exterior. This use of glutinous rice flour is universal in Asian cuisine. In Japan, this type of dessert is called daifuku, and in Korea, it is called chapssaltteok.
Nuomici can have many different flavor combinations by changing the filling. Some possible flavors are peanuts, sesame paste, mango, and red bean mochi. This coconut mochi is typically coated in desiccated coconut to add more flavor and make the mochi easier to pick up. Roasted soybean powder, sesame seeds, or plain glutinous rice flour are used as well.
How to Make Nuomici
Make the Dough
Thoroughly whisk all of the dough ingredients together. Make sure that there are no lumps in the dough so that the dough comes out smooth. Steam the dough on high for 25 minutes. If steaming on the stove, let the water come to a boil first. Let the dough cool down before assembling the mochi.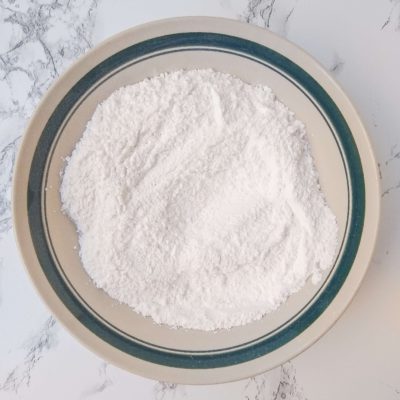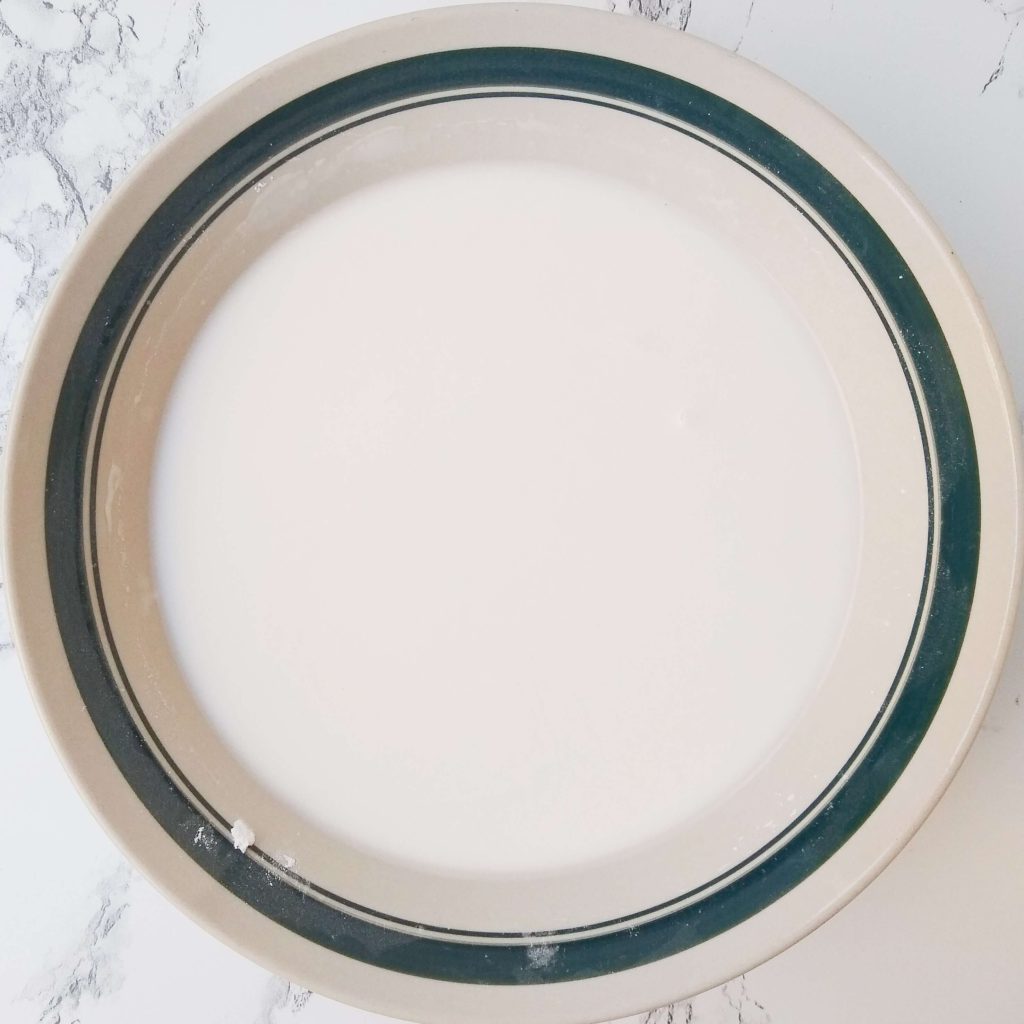 Assemble the Nuomici
Divide the red bean paste into 20 portions. They should be around the size of a marble. Divide the cooled down mochi dough into 20 pieces as well. Flatten one wrapper slightly and put a red bean paste ball in the center. Wrap the wrapper around the paste and pinch tightly to seal. Use your hands to shape the mochi into a round ball and toss it in the desiccated coconut.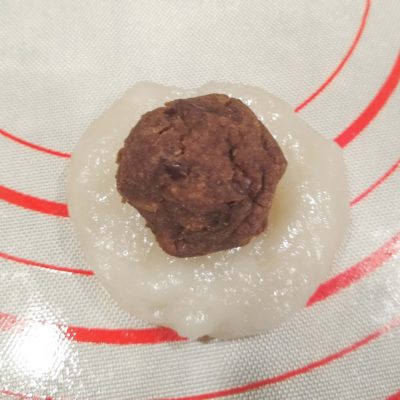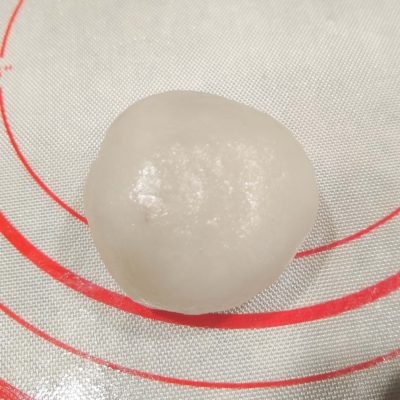 Nuomici, and homemade mochi in general, tastes best when eaten immediately. But, you can store the mochi in an air-tight container for up to 3 days.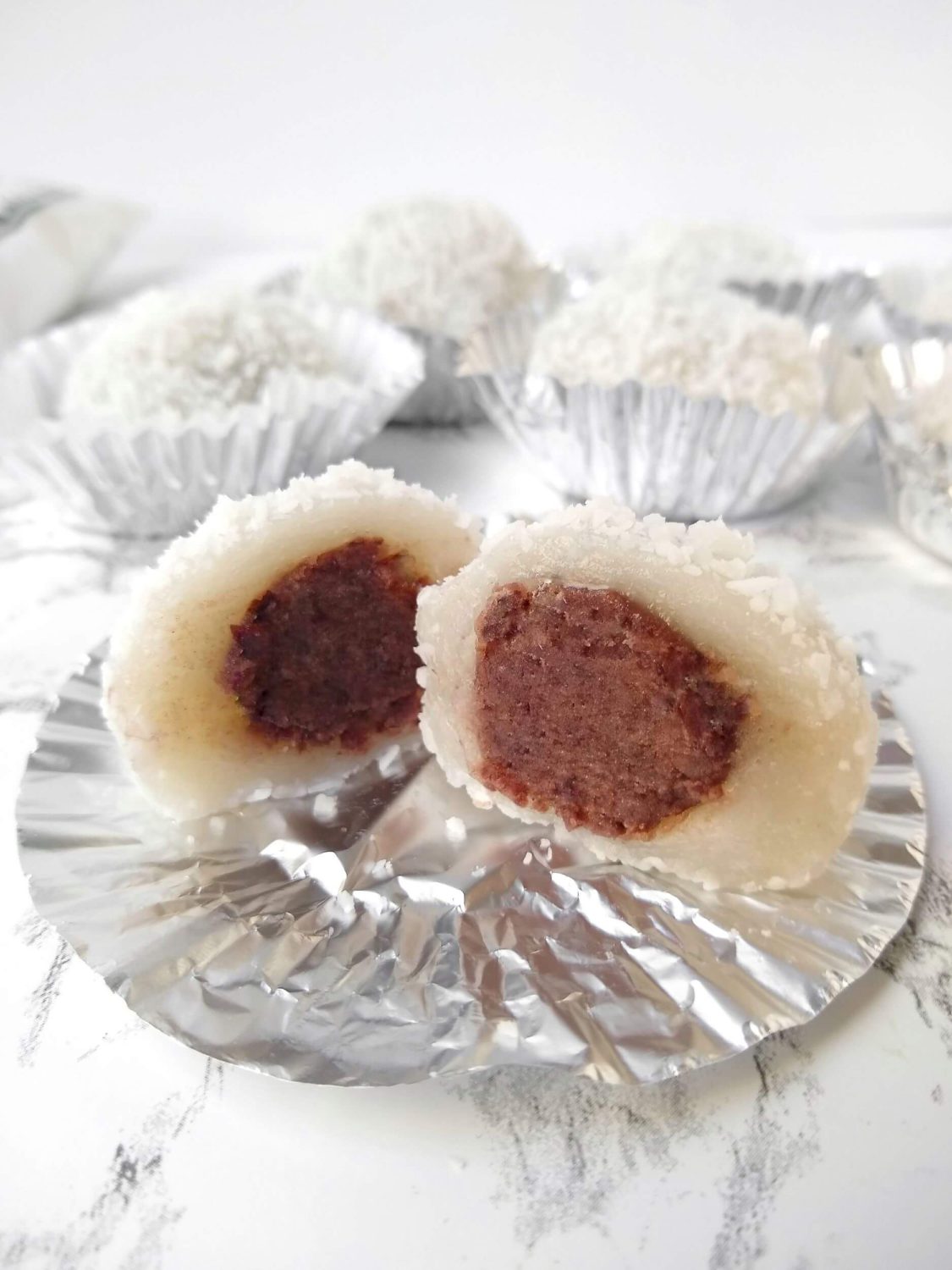 Tips
Use homemade red bean paste for the best flavor and to have more control over the sweetness level. Learn how to make red bean paste here.
When assembling the mochi, I recommend wearing food gloves, as the dough can be quite sticky. It needs to be tacky so that the coconut sticks on. If you do not have gloves, you can also try wetting your fingertips with water, lightly oiling your hands, or using plastic wrap to handle the dough.
Make sure to use unsweetened desiccated coconut, or else the mochi will be too sweet. If you do not have desiccated coconut, you can put some coconut flakes or shreds into a blender or food processor.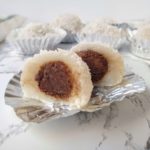 Print Recipe
Chinese Coconut Mochi (Nuomici)
These traditional Chinese glutinous rice balls have a delicious red bean paste filling and coconut coating. They are super soft and chewy and very easy to make.
Ingredients
Sweet Rice Dough
1/2

lb

glutinous rice flour

(227 grams)

1/2

cup

sugar

(100 grams)

1/2

can

coconut milk

(200 ml)

3/4

cup

water

(180 grams)

2

tbsp

wheat starch

(20 grams) can substitute with cornstarch
For Assembly
1/2

can

red bean paste

(255 grams)

desiccated coconut

(unsweetened, about 1 cup/70 grams)
Instructions
Whisk all of the ingredients except the red bean paste together until smooth.

Pour the batter into a greased container. Steam on high for 25 minutes. Set aside and let cool until lukewarm.

Form the red bean paste into 20 balls about the size of a marble. Divide the cooled glutinous rice dough into 20 pieces as well. Note 1

Flatten the wrapper slightly and put one red bean paste ball in the center. Wrap the wrapper around the paste, pinch closed, and shape it into a ball.

Roll the ball in a tray filled with desiccated coconut to coat. Repeat with the remaining pieces of wrapper and filling. Enjoy fresh or store in an air-tight container for up to 2 days. Store extra mochi in the freezer and thaw for a few hours before eating. Note 2
Notes
If the sweet rice dough is sticking to your hands, use cooking gloves to divide and wrap the glutinous rice balls. 
You can also try coating the mochi in roasted soy bean flour (kinako powder) or sesame seeds to give them different flavors. The main purpose of the coating is to make the mochi easier to pick up with your hands